Travel
Route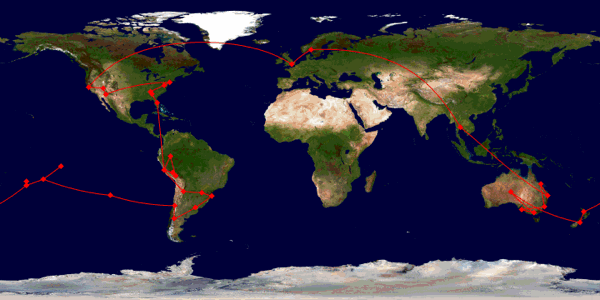 Here is the master plan. We start by sleeping over in London before we head over to San Francisco. This flight will actually be the longest of the entire journey, 5367 miles and a flight time of 10 hours and 45 minutes.
North America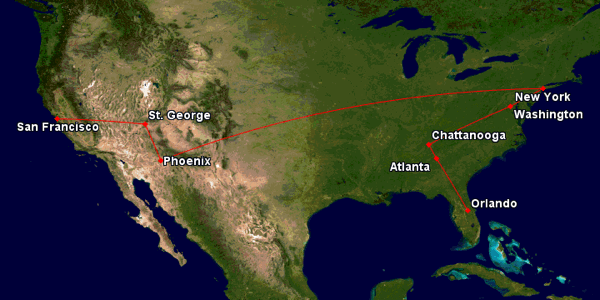 After San Francisco we head over to the small town of St. George in Utah and rent a car. We drive through Bryce Canyon and reach the Grand Canyon before catching a plane from Phoenix to New York. Washington DC is next, followed by Chattanoga (where Eirik lived as a kid. Hello Gwen!) and Atlanta. The US is not complete without a stop in Orlando and Walt Disney World.
South America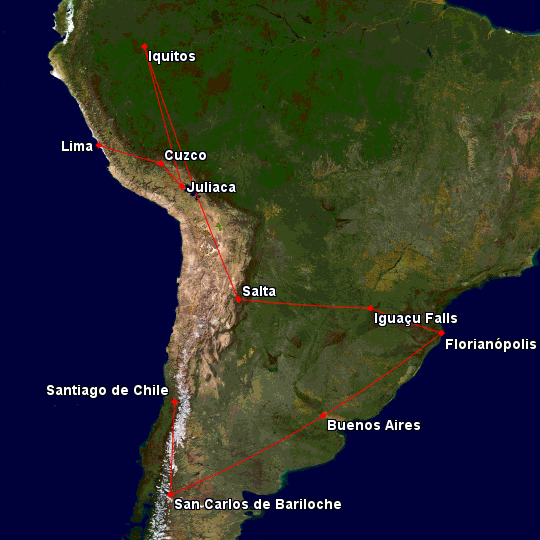 We start our South American adventure with an overnight stay in Lima before heading over to Cuzco. We will do a day in the valley of the Incas before making our way up to the magnificent Machu Picchu. Juliaca and lake Titicaca are next. The last stop in Peru is Iquitos where we will stay at a lodge in the Amazon jungle. Next we will stay in Salta in Argentina and enjoy the Andes. We then stop for a few days In Iguacu to witness some of the worlds greatest waterfalls. Florianopolis, a beautiful city on an island will be our next destination. We do a night in Buenos Aires before heading for Villa la Angostura close to San Carlos de Bariloche. Santiago de Chile will serve as another sleeping stop before we head west.
The Pacific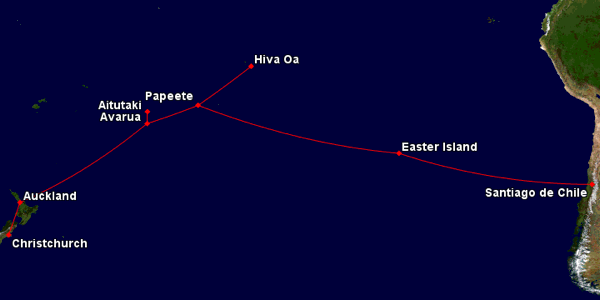 Ah, the Pacific! We will follow Thor Heyerdahl's example and go to Easter Island for a few days. We then go to a small piece of France, French Polynesia. After an overnighter in Tahiti we fly up to the Marquesas islands and Hiva Oa. Paul Gaugin and Jaques Brel spent their last days there. The next paradise will be Rarotonga where we will chill out on the beach. To top it all we head for beautiful Aitutaki, sometimes referred to as the most beautiful place on earth. We spoil ourselves in its shallow lagoon before setting our sights on New Zealand. The plan is to rent a camper van in Auckland and goof around until we end up in Christchurch.
Australia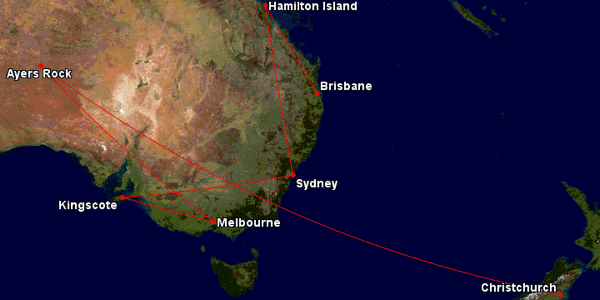 We start the down under part of our voyage in Uluru (or Ayers Rock). Melbourne is next, where we rent a car and drive all the way up to Adelaide and Kangaroo Island. Sydney is a must before we head up to Hamilton Island for a taste of the great barrier reef. The final Australian destination is Brisbane.
Long Way Home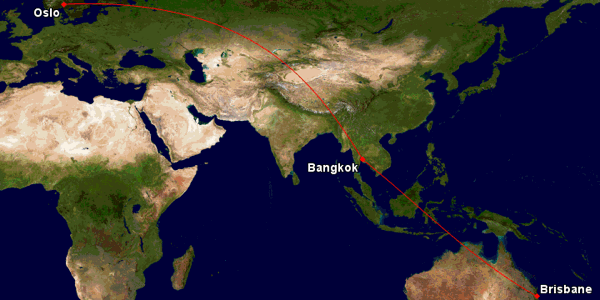 We do one last stunt in Thailand where we chill out and cool down before heading home to Oslo. Well, this is the plan, anyway. Let's see what happens.
Maps generated by the Great Circle Mapper – copyright © Karl L. Swartz.